Alright, so I had promised an update to everyone, but mainly my sister. I told her I would post some pictures of our weekend. It was a wonderful weekend, far to short, but wonderful.
Friday:

Friday morning Jonathan and I said we were not going to do anything. Well that all changed. My sister-in-law, Jennifer, had to go in for minor sugery. She was suppose to get to leave that day. However, when the doctor got in there they found a tumor. So they had to do sugery. She ended having to stay at the hospital all weekend. Joey, my oldest brother was with her, but they we not prepared to have to stay. So Jon and I headed their way when we got off work. We got a pizza, Jonathan had made him a snack pack, and I took him some clothes and neccesities. We left there at about 9pm. BTW Jenn is doing well. She got to come home yesterday, but she could not travel. So Joey, Jenn, and the boys are at my mom's house. She is still in pain, but getting better each day. After we left the hospital we had to drive to Talladega to get Herbert's truck because Jon was helping a friend move on Saturday. So we went there. We visited with mom and them a minute then we were back on the road. We got home at like 11:45. We were so tired. We went straight to bed!
Saturday:
Jon went to help his friend Will move on that morning. I was suppose to be up at 7:45, but I did not wake up until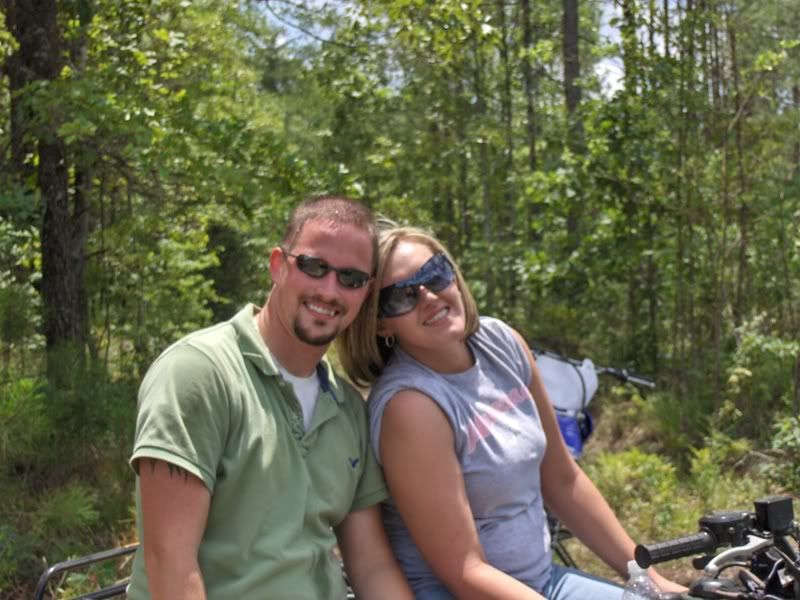 8:51. Needless to say I was in a hurry. So Jon brought me breakfast. We then loaded up, and met up with our buddies Chris and Tamara. (To the left) We head to my mom's in Talladega. We got there about 11:30, got unloaded, and then we were off. Chri
s rode his dirt bike, Tamara rode her 4-wheeler, and Jon, Dawson, and I rode the 6-wheeler. We took Dawson, my nephew withus because Duncan was sick so my mom already had her hands full, and he was borad. We followed the powerline, and we ended up riding several miles. It was so much fun. I have to say it was hot, and the briars hurt so bad! However, it was a great time. By the time it was over I had so much dirt
on me that I looked I was so tan. Good friends = good times! Aft
er we finally got done riding we went back to my mom's to cool off. Mom made spagettii and garlic bread. We ate and chated for a while. Then it was off to Trussville to get ready for our couples cookout at church!

The couples cookout was so much fun. The pictures from that will come later because I did not bring my camera outside. We played horseshoes with an older couple. Jon and I losted. Then I went to chat with the ladies, but the preacher joined Jon's team and they were off to see if they could beat another more experienced team. Well after a good while, Jon and pastor had come back to tie the guys 10 to 10. However, they ended up losing still. We had a blast. We were the youngest couple their by about 8 - 10 years, but still. Everyone in our couples class is so nice. Jon and I got to talk to the pastor and his wife Kathy for a good while. Which is not something I have never really got to do. We love our church family so much!
We left the cookout at about 8pm because we had to go back to the hospital to take Joey some supper, and some stuff that my mom had sent him. When we got home, Jonathan and I were so tired. He espically because he had gotten up at 5:45 to go help Will move. It was a great day/night!
Sunday:
Jonathan
and I got up and went to Sunday School and church. It was great. After chruch we went out for lunch at the Mexican resturant. Then we decided we would go home, and take a nap together. We never get to nap together, and seeing as how we were both tired. We slept.
So
nice. We got up about 4pm.
Wow...we were shocked.
We slept most of the
day away. Lazy,
secluded Sundays...they are so nice. Of course we had to do the dreaded trip to Wal-mart. They are remodeling ours so it is a nightmare
everytime we go. We got home, I put up the grocerieces, Jon washed dishes, I cleaned the counters and stove, he did laundry. The we cleaned our bedroom, and did a
little rearranging of the furniture. It looks great! Now I love hanging out in my bedroom. So when we finished Jon watched TV and I uploaded
pics and talked to my firend, Tiffany, online.
It was nice to talk to her cause we both stay so busy. Overall, it was a great Lisa and Jon day! We even took a pic of us vegging out! Oh, I did talk to my daddy! He and Regina are good! Having a lazy Sunday like we did!